The Aftermath of the Sedona Flood – More Photos Showing Clean-up Underway Throughout Sedona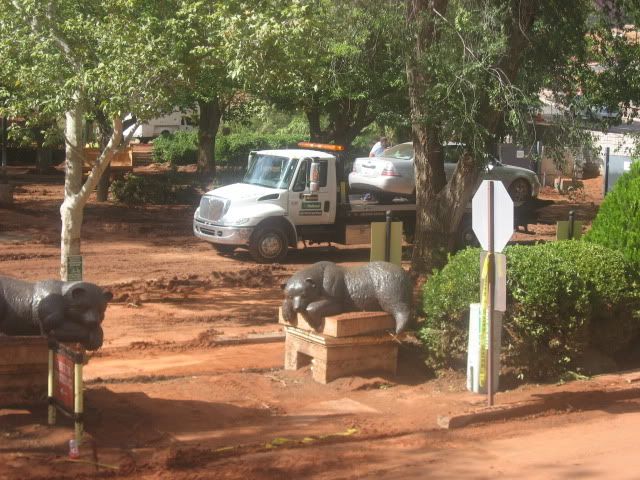 Yesterday a car was wedged between these two bears that greet visitors entering Tlaquepaque. Today, most of the cars have been cleared although a few still remain. One of the Managers at the Oak Creek Brewery told us that over 50 people were trapped inside the Brewery for over two hours, watching as people trapped in the flood held onto trees waiting to be rescued, unsure if they would live or die. They said, "When the cars started slamming into the building, that was when it got really scary."
Yesterday, the bronze elk (by local artist Chris Navarro) pictured above was laying on it's side with a car on top as you might recall. Today, he has been restored to his full splendor – believe it or not, the elk won out over the car. The car sustained significant damage and the elk shows the sturdiness of bronze – he is completely unharmed!
The owners of the Secret Garden Cafe told us that nearly 2 feet of water stood inside the restaurant where they and customers were also trapped for hours. They watched as the car came slamming into the courtyard outside their front doors and took out the 10 ft bronze elk, landing on top. Owner, Candace Peterson showed me her screensaver on her cell phone – an all-too-close-up photo of the car "parked" precariously infront of her business. Thanks to volunteers, the inside of the restaurant is already cleared out although the beautiful "garden" is still filled with mud at the moment. They plan to re-open Monday morning after they've had time to finish cleaning up.
Over 40 volunteers showed up this morning at Tlaquepaque to begin major clean-up efforts. Emergency Management Teams were on hand, plumbers, cable crews, gas crews, etc. all worked together to repair the damage from the flood in order to get Tlaquepaque up and running in time for Fiesta del Tlaquepaque on Saturday. Within hours, the difference was clear. In many areas of Tlaquepaque, you can't even tell there was a flood yesterday.
Proof of how "many hand make light work." I'm told this business took the brunt of the flooding yesterday with up to 8″ of standing water inside that receded into a foot deep of mud they had to clear out this morning. I was stunned when I peeked inside and could not see any remnants of the flood. Thanks to all the volunteers and hard-working business owners at Tlaquepaque!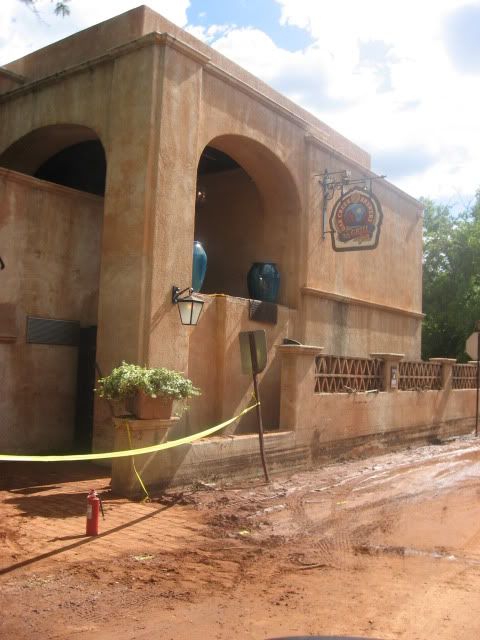 Onlookers stood trapped on the balcony of the Oak Creek Brewery yesterday watching helplessly as many people stranded in their vehicles waited for rescue. Today, Portal Lane (below) is open again, it's just a "dirt" road today as they continue to clear the mud and debris.
About 80% of the businesses at Tlaquepaque received flooding damage. Some reported up to 8″ of standing water in their businesses as a wall of water came rushing through. Adrienne Harris, Owner of  Cucina Sedona and Verdigris Gallery at Tlaquepaque told us that yesterday was a VERY bad day for her, "My home was flooded, two of my businesses were flooded and my car was totalled." Thankfully, her third business, the Wild West Wine Co., an upstairs business at Tlaquepaque was unaffected and both of her businesses plan to re-open on Tuesday. Her sister, Leslie's business, Diva Sedona, located across from Rene's was also hard hit. Today, many tenants were ripping out carpet and sucking water and mud out of their beautiful businesses. Already today Renee Taylor Gallery, El Rincon Ristorante, Eclectic Image Gallery, Nectar, Feliz Navidad, Inner Eye Gallery and many others who were directly affected were open for business again. The remaining businesses like Secret Garden Cafe, the Oak Creek Brewery, and Rene's plan to re-open tomorrow or by early next week at the latest. Fiesta del Tlaquepaque is also scheduled to go off without a hitch tomorrow from 10 am to 5 pm with performances throughout Tlaquepaque, artist exhibitions, musical performances and much more.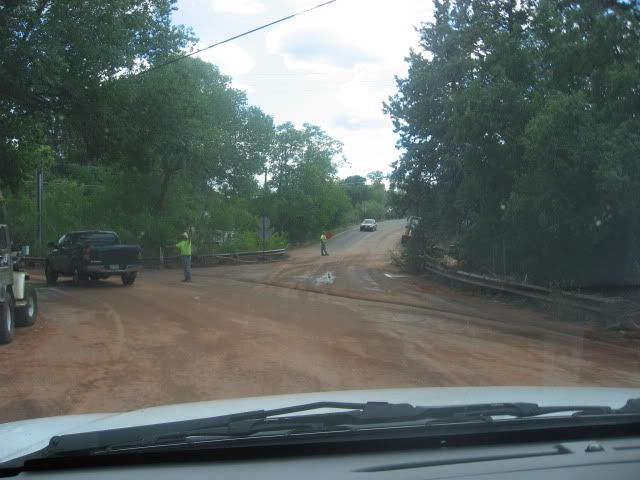 The Hummingbird House on the corner of Brewer Road and Ranger Road sustained the most damage of any business in Sedona. Victims of the flood tell us that a vehicle was washed into the bridge at this intersection creating a damn. When it could no longer hold the pressure of the back-up, it burst through and the "wall of water" many described came barreling through the Tlaquepaque parking lot down a gulley that passes through Portal Lane and normally behind Tlaquepaque. This deluge picked up vehicles parked there and started tossing them around like beachballs. Had it not been for that first car getting stuck in the gulley, the extent of the flooding would not have been so devastating.
2 women were trapped inside the Hummingbird House where 3 feet of water stood outside, rising. The Fire Department had to break through the glass windows to rescue the women inside. Today, the owners and other volunteers sift through the wreckage of their beautiful antique store.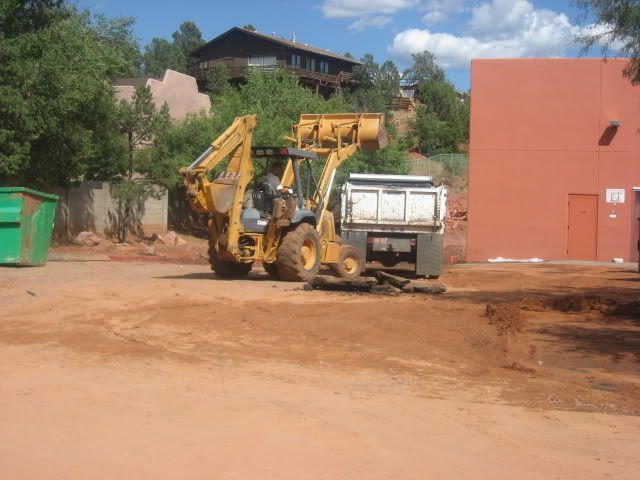 Flooding occured in other parts of Sedona as well including Coffee Pot Dr. where a mudslide was said to have "thrown vehicles" into a local flooring business. Onlookers said it appeared as though the river of mud and water and literally uprooted the roadway and today, many large chunks of road were being cleared around the area although Coffee Pot Drive itself was completely unscatched.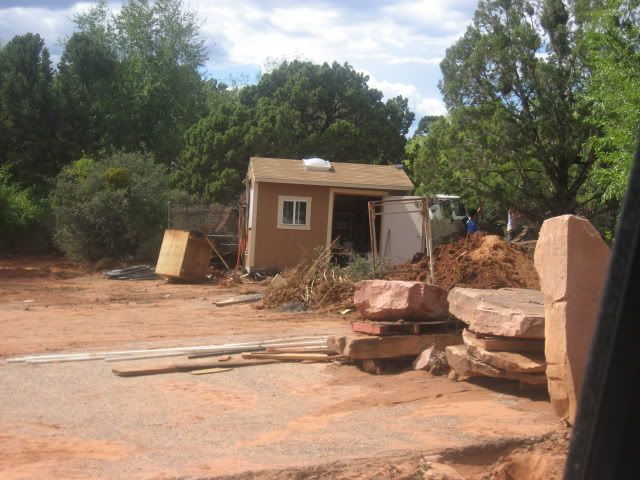 Sedona Adventure Tours appeared to have sustained significant flooding damage from the mudslide/flood on Coffee Pot Road.
Thanks to the efforts of many hard working volunteers, business owners, clean-up crews, service crews, emergency management teams and citizens, Sedona is getting quite a clean-up makeover today. Businesses plan to be open for a busy September weekend, roadways are clear for travel and if you head to Tlaquepaque this weekend you're in for a real treat at Fiesta del Tlaquepaque. Please support Sedona businesses by visiting us this weekend. The leaves are just starting to turn in Oak Creek Canyon so come take a drive, take a hike, do some shopping and dining and enjoy the beauty of Sedona. Mother Nature may have had her way with us yesterday, but she also provides us with one of the most spectacular settings in the Southwest to enjoy every single day.
For videos of Tlaquepaque businesses you can plan to visit this weekend, go to our www.Sedona.tv homepage and start exploring the Shops & Plazas category!