Businesses Affected by Sedona Flooding Re-Open In Time for Fiesta del Tlaquepaque Tomorrow 9/12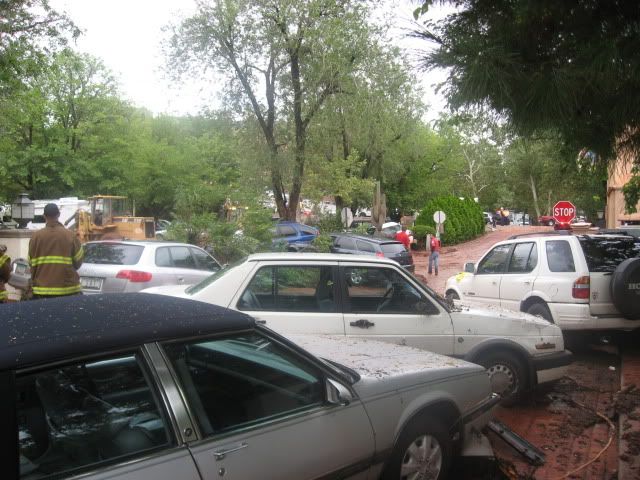 Sedona, AZ – Yesterday, torrential monsoon rains brought 3″ of rain and pea-sized hail in less than 30 minutes to a localized area over Sedona causing massive flooding just after lunchtime. A gush of water came pouring through Portal Lane, the entrance to Los Abrigados Resort & Spa, El Portal Luxury Inn and Sedona's most well-known shopping area, Tlaquepaque Arts & Crafts Village. Dozens of vehicles were swept away in the flood, piled on top of each other, thrown into ditches and gulleys, forced under bridges, and crushed. Emergency response crews were on the scene within minutes and performed several rescues in waist-deep mud and water as onlookers from inside Tlaquepaque businesses watched, trapped. Thankfully, no one was injured although some were very shooken up and many lost their vehicles.
 
In West Sedona, a mudslide on Coffee Pot Road swept two vehicles into a local flooring business. A 5 foot deep "lake" formed behind the Basha's Shopping Center – vehicles trying to cross it had water mid-way up their car doors. The highway throughout West Sedona looked like a dirt-road, covered in inches of mud.

Just hours after the rain had stopped and the flooding had subsided, volunteers came out in droves to begin clean-up at the areas most affected – Tlaquepaque, Los Abrigados Resort & Spa, and the Hummingbird House to name a few. Bulldozers and dozens of volunteers with shovels began clearing mud and debris immediately. Friday morning, Tlaquepaque General Manager and Resident Partner Wendy Lippman said, "We have over 40 people here working very hard to get Tlaquepaque ready for Fiesta del Tlaquepaque tomorrow. We are still open for business and there is fortunately no permanent damage to Tlaquepaque. We still plan to host one of Sedona's most popular annual festivals tomorrow with several performances throughout Tlaquepaque and artists exhibiting extraordinary works at many of the galleries located here." Officials report that today road ways are clear and safe for travel, the flooding is gone, and the beauty of Sedona remains intact.
"Many have asked how they can help Sedona right now and we have a perfect solution for you…Come show your support to the businesses affected by visiting Sedona this weekend to enjoy everything we have to offer including Fiesta del Tlaquepaque" says Megan Aronson, host of Out & About with Megan on Red Rock TV16 in Sedona. "This is a small community filled with 'Mom and Pop' shops that rely on tourism to sustain their businesses. The last time we had a severe flood here a few years ago, the negative publicity deterred visitors from coming to Sedona – they thought the whole town was under water! We're here to tell you, the flooding is gone, the roadways are safe and nothing can touch the beauty of Sedona or Tlaquepaque. Come see us this weekend and help support Sedona!"
 
Fiesta del Tlaquepaque
Celebration of Mexican Independence Day
Sedona, Arizona Tlaquepaque, the Art and Soul of Sedona, announces its 36th annual "Fiesta del Tlaquepaque," a celebration of Mexican Independence Day, Saturday, September 12, 2009 from 10 a.m. to 5 p.m. Arts and crafts exhibits will abound offering a glimpse into the traditional and present artistry of Mexico. "The artists at the Fiesta are a great expression of the diversity, artistry and spirit of the community," said Wendy Lippman, Tlaquepaque General Manager and Resident Partner. "Abe Miller, the visionary builder of Tlaquepaque, started this tradition more than 30 years ago and Fiesta attracts people from all over the state and country."
Fiesta highlights include Mosaico Flamenco, one of the most innovative and inspiring new acoustical flamenco groups in the US, performing from and the singing Mariachis, offering sweet traditional songs in many locations throughout Tlaquepaque village.
Free Road Runner shuttle service will run from 10 a.m. to 5 p.m. between Tlaquepaque and the Uptown municipal parking lot located on Apple between Jordan and Highway 89A. Admission to Fiesta is free. This event will take place from 10:00am – 5:00pm. For additional information please call (928) 282-4838.
Date Details: Saturday, September 12, 2009
Organizer: Tlaquepaque Arts and Crafts Village
Email:

info@tlaq.com

Location: 336 State Route 179 Sedona AZ 86336
Phone: (928) 282-4838
Cost/Fees: Free
For videos and more information on the wonderful galleries, restaurants, shops and boutiques at Tlaquepaque view their
video webpage
on Sedona. tv!